Still working through that backlog:
This was taken on April 15, 1948 at the Diaper Service Institute of America convention by a photographer from The Cincinnati Enquirer. When published, the picture apparently bore the following caption: "Babes But Not Infants: Some girls from the dancing hours at the Latin Quarter helped enliven the annual convention of the Diaper Service Institute in Cincinnati. Left to right, clockwise, are Gwen Hancock, Ruth Nelson, Betty Cranfill, Lennie Pearce and Anne Mae Baren." This makes four years we know of that the organization did this (1946, 1947, 1948, 1956).
This is a newspaper comic called "Mopsy" from May 5, 1943.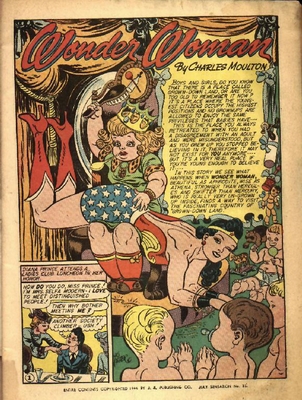 Recently, after you posted my revised submission on Sensation Comics, a commenter bemoaned the absence of a comic story featuring a diapered Wonder Woman. Nothing like that has ever been published, at least "officially." but I did find this...
(Via
Chicago Spanking Review
.)
Here we have the cover of Life magazine for August 12, 1946, featuring actress Loretta Young in footed pajamas (and pigtails). There's also a color shot from the interior. This babe should stop smoking - it'll stunt her growth!
You want baby bonnets? Here's one from the cover of Vogue (November 15, 1964) worn by model Asrid Heeren.
That's all for now... If you have something you think our readers would enjoy,
drop me a line
and I'll get it up ASAP.